3 In 1 Fashion Luxury Men's Wristwatch Calendar Men's Gold Plated DS Stone Iced Watches With Couple Rings
Looking for what to glam your wrist with? Get your timeless piece and keep in touch with the day as it rises and falls. this timeless piece helps define your style,by adding a touch of sophistication and crowing it with class. Making your wrist fully adorned and giving it a glam that leaves on a lasting impression.Be the boss you want to be and perceived as by getting yours today on Jumia at the best price.
Maintenance knowledge:
1. Any waterproof watch should not be exposed to hot water, hot steam (such as hot springs, sauna).
2. Try to avoid using in a large temperature environment, which is easy to cause condensation in the watch.
3. Avoid placing the watch for a long time near a strong magnetic field such as a TV or radio to prevent the watch from being magnetized.
4. Avoid direct contact with chemical solvents, avoid wearing when makeup, chemical materials or the environment will look like accessories.
5. Avoid wearing your watch for strenuous exercise to avoid scratching or falling of your wrist or watch.
6. If there are protective sheets or stickers on the back of the watch, please remove them before use, otherwise the sweat will penetrate into the backing paper, causing the back of the watch to rust.
7. Battery When the of the quartz watch jumps or stops every few seconds, when the battery is exhausted, the battery should be replaced in time to avoid leaving the battery without electricity for a long time and causing damage to the movement.
How to clean:
1. Wipe the dirt, sweat and water droplets on the case and the mirror with a soft cloth.
2. Wipe the sweat and scale off the belt with a soft, dry cloth.
3. When using metal plastic or rubber straps, please wash the dirt with mild soapy water. Use a soft brush to clearly remove dust and dirt from the gap in the metal strap.
Bracelet attention:
Avoid chemicals
Avoid wearing when taking a bath
Avoid being hit and cut flowers
Avoid wearing a lot of sweat
Wipe the jewelry with a soft cloth
Avoid wearing when sleeping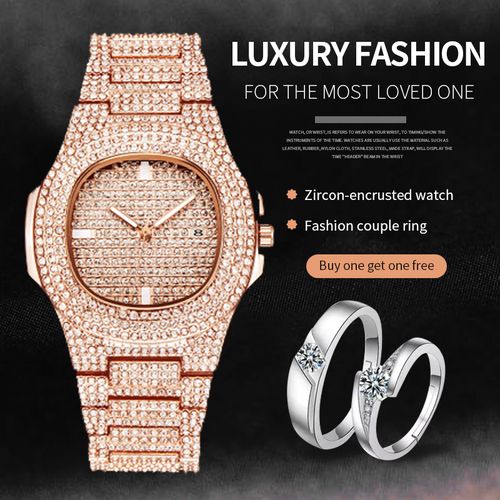 Key Features
Avoid chemicals
Avoid wearing when taking a bath
Avoid being hit and cut flowers
Avoid wearing a lot of sweat
Wipe the jewelry with a soft cloth
Avoid wearing when sleeping
What's in the box
1*watch,2*rings
Specifications
SKU

: FA203AC0QY3Z5NAFAMZ

Color

: Gold

Main Material

: N/A

Model

: Watch,Rings

Product Line

: Sier

Weight (kg)

: 0.2
Product Reviews (11)
5 out of 5
I like it
Good product
1 out of 5
faulty
faulty hook, i dint notice on time i was unable to fix it in the market, reason accessories not available
5 out of 5
Iike it
Looked exactly how i saw it
3 In 1 Fashion Luxury Men's Wristwatch Calendar Men's Gold Plated DS Stone Iced Watches With Couple Rings